Planlægger du en hyggelig familieferie i Århus her til sommer? Så kan du med fordel opsøge de spændende og lærerige oplevelser på et af byens moderne museer. Hos Science Museerne under Århus Universitet kan du finde oplevelser og aktiviteter for hele familien, som er såvel underholdende som inspirerende.
Steno Museet – mennesket i videnskaben
Hos Steno Museet bliver de videnskabelige fremskridt gennem historien taget op og sat i perspektiv. Steno Museet er opkaldt efter den danske videnskabsmand Niels Steensen som var en sand pioner inden for forskning i såvel anatomi som geologi.
Niels Steensen stillede stedse spørgsmål ved den naturlige verden – og det samme gør Steno Museet. Derfor vil du i de mange udstillinger på Steno Museet, de permanente såvel som de midlertidige, opleve hvad en sand videnskabelig diskurs går ud på, og hvordan et paradigmeskift foregår inden for den videnskabelige verden. Det er nemlig gennem spørgsmål og dialog at videnskaben bevarer sin relevans.
Ole Rømer Museet – stjerner og planeter helt tæt på
Måske har du ofte kigget op i nattehimlen sammen med dine børn og løbet lidt tør for forklaringer når det handlede om planeter og stjernebilleder. På Ole Rømer Museet kan dine børn – og du selv – få svar på en række spørgsmål omkring det mystiske univers.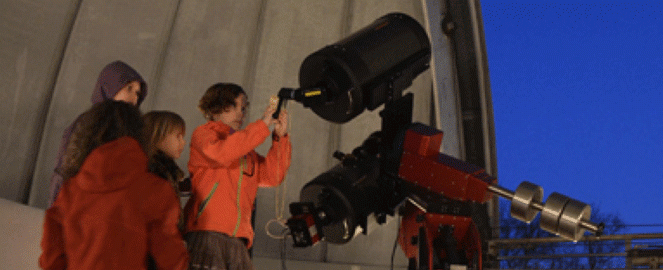 I får mulighed for at studere verdensrummet gennem et ægte professionelt teleskop, som bringer planeterne i vores solsystem ganske tæt på beskueren. Og der vil altid være en dygtig museums formidler, for eksempel en uddannet astronom, som kan fortælle hvad det er I kigger på.
Århus Botaniske Have og Væksthusene – en rejse gennem klimazonerne
I Århus Botaniske Have og Væksthusene kan du og familien hele året rundt beskue smukke, levende planter såvel udendørs som indendørs. Du kan læse mere om Århus Botaniske Have og Væksthusene samt de andre museer under Århus Universitet på sciencemuseerne.dk.